1) ASEAN Political-Security Community (APSC) Blueprint

The APSC Blueprint promotes political stability, democracy and good governance among the member countries. It also contains the promotion and protection of human rights and fundamental freedoms to enhance political development.
As the rule of law, human rights is addressed as a rules-based community of shared values and norms. Under APSC, lists of specific action are to be undertaken by ASEAN member states to promote and protect human rights including the rights of migrant workers, the rights of women and children and other civil society organizations as well as to education and public awareness on human rights.

Another characteristic under a cohesive, peaceful and resilient region with shared responsibility for comprehensive security involves important human rights issues relating to trafficking in persons and counterterrorism. The APSC Blueprint also suggests strengthening criminal justice responses to trafficking in persons and enhancing cooperation to combat people-smuggling. According to this subject, the member countries are guided to be mindful of trafficking victims in accordance with the ASEAN Declaration against trafficking in persons particularly women and children. Moreover, counter-terrorism requires intensifying efforts by early ratification and full implementation of the ASEAN Convention on Counter-Terrorism.
2) ASEAN Economic Community (AEC) Blueprint
The AEC Blueprint fosters equitable and stable economic development on a global level. It includes establishment of a single market, production base and regional competitiveness.

At the Ninth ASEAN Summit in October 2003, the ASEAN leaders signed the Declaration of ASEAN Concord II (Bali Concord II) aiming at an ASEAN Economic Community (AEC) as the end goal of its economic integration. Later, the deadline was brought forward to 2015. The major milestone was at the November 2007 ASEAN Summit in Singapore where all ASEAN leaders adopted the AEC blueprint. It is organized along AEC's five main characteristics.

Single market and production base consists of 5 core elements:
Liberalization

Facilitation

free flow of goods

- tariff and non-tariff barrier (NTB) elimination
synchronized external tariff alignment

- customs integration standards and technical barriers to trade

free flow of services

- full market access and national treatment
- remove substantially all restrictions on trade in services

 - mutual recognition arrangements (MRAs) on professional services; professional exchange

free flow of investment

- all industries and services incidental to these industries to ASEAN investors

- transparency; streamlined procedures, avoidance of double taxation; joint promotion

free flow of capital

- relax capital control measures on intra-ASEAN portfolio investments

- harmonize capital market standard; facilitate market driven efforts to establish exchange and debt market linkages

free flow of skilled labor

- remove discrimination on employment

- harmonization of standards in education and training; MRA on vocational training

Priority Integration Sectors (PIS)

conduct a biannual review to monitor status, progress, and effectiveness of the PIS road maps to ensure timely implementation.

identify sector-specific projects or initiatives through regular dialogues or consultation with stakeholders, particularly the private sector.
1. Food, Agriculture and Forestry

enhance trade and long-term competitiveness of ASEAN food, agriculture, and forestry products.

promote cooperation with international and regional organizations and the private sector.

2. Competitive Economic Region

develop a competitive policy
strengthen consumer protection

regional cooperation in intellectual property rights (IPRs)

regional cooperation in infrastructure development

complex network of bilateral agreements on avoidance of double taxation

promote electronic commerce (e-commerce)


3. Equitable Economic Development


accelerate the development of small and medium-sized enterprises (SMEs)

enhance the initiative for ASEAN Integration (IA) to narrow the development gap


4. Integration into the Global Economy


achieve the coherent approach towards external economic relations, including its negotiations for free trade area (FTAs) and comprehensive economic partnerships (CEP) agreements

enhance participation in global supply networks
3) ASEAN Socio-cultural Community (ASCC) Blueprint
The ASCC Blueprint establishes a socially responsible ASEAN community with the view of achieving as well as building a sharing and caring society to fill the gap at the country level.

The goal of the ASCC Blueprint is to enhance the well-being and provide equitable access to human resource. It calls for access to primary healthcare of the vulnerable groups or  people at risk. This is in line with the Declaration of the Right to Development by the UN General Assembly on 4 December 1986. Three objectives are set to achieve the ASCC Blueprint: advancing and prioritizing education, investing in human resource development and promotion of decent work.
1.2.2 ASEAN Summit
The heads of government meet at the ASEAN summit, the highest forum for ASEAN co-operation. Summit meetings are held over three days, and are hosted in a rotating basis according to the alphabetical order of member countries. There have been 23 ASEAN Summits to date, the most recent one held at Bandar Seri Begawan, Brunei Darussalam on 9-10 October 2013. The next summit will be held in Nay Pyi Daw, Myanmar in 2016.
List of ASEAN Summits
Twenty-third ASEAN Summit, Bandar Seri Begawan, Brunei Darussalam, 9-10 October 2013

Twenty-second ASEAN Summit, Bandar Seri Begawan, Brunei Darussalam, 24-25 April 2013

Twenty-first ASEAN Summit, Phnom Penh, Cambodia, 18 November 2012

Twentieth ASEAN Summit, Phnom Penh, Cambodia, 03-04 April 2012

Nineteenth ASEAN Summit, Bali, Indonesia, 14-19 November 2011

Eighteenth ASEAN Summit, Jakarta, Indonesia, 7-8 May 2011

Seventeenth ASEAN Summit, Hanoi, Vietnam, 28-30 October 2010

Sixteenth ASEAN Summit, Hanoi, Vietnam, 8-9 April 2010

Fifteenth ASEAN Summit, Cha-Am Hua Hin, Thailand, 23-25 October 2009

Fourteenth ASEAN Summit, Cha-am, Thailand, 26 February - 1 March 2009

Thirteenth ASEAN Summit, Singapore, 18-22 November 2007

Twelfth ASEAN Summit, Cebu, Philippines, 9-15 January 2007

Eleventh ASEAN Summit, Kuala Lumpur, Malaysia, 12-14 December 2005

Tenth ASEAN Summit, Vientiane, Laos, 29-30 November 2004

Ninth ASEAN Summit, Bali, Indonesia, 7-8 October 2003

Eighth ASEAN Summit, Phnom Penh, Cambodia, 4-5 November 2002

Seventh ASEAN Summit, Bandar Seri Begawan, 5-6 November 2001

Fourth Informal Summit, Singapore, 22-25 November 2000

Third Informal Summit, Manila, Philippines, 27-28 November 1999

Sixth ASEAN Summit, Hanoi, Vietnam, 15-16 December 1998

Second Informal Summit, Kuala Lumpur, Malaysia, 14-16 December 1997

First Informal Summit, Jakarta, Indonesia, 30 November 1996

Fifth ASEAN Summit, Bangkok, Thailand, 14-15 December 1995

Fourth ASEAN Summit, Singapore, 27-29 January 1992

Third ASEAN Summit, Manila, Philippines, 14-15 December 1987

Second ASEAN Summit, Kuala Lumpur, Malaysia, 4-5 August 1977

First ASEAN Summit, Bali, Indonesia, 23-24 February 1976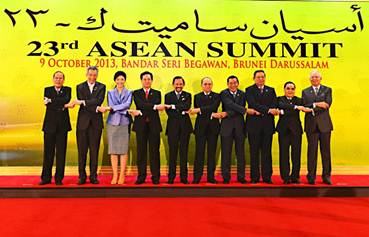 ASEAN Summit
23rd ASEAN Summit, Bandar Seri Begawan, Brunei Darussalam, 9-10 October 2013
BANDAR SERI BEGAWAN, 9 October 2013 – This year's ASEAN Chair Brunei Darussalam will convene the bi-annual gathering of ASEAN leaders to discuss the progress towards the realization of the ASEAN Economic Community by 2015. With two more years before the deadline, the implementation of the Roadmap for an ASEAN Community showed considerable gains across all three pillars of the community, setting the stage for meeting the 2015 targets.

With the theme "Our People, Our Future Together", the 23rd ASEAN Summit will discuss ways to consolidate these gains to meet the 2015 target of having an economically integrated, politically cohesive and socially responsible ASEAN Community and to ensure ASEAN's place in the global community of nations by 2015 and beyond.
For the next two days, the ASEAN Leaders will meet with their counterparts and leaders of ASEAN's dialogue partners to discuss wide-ranging cooperation in the political-security, economic and socio-cultural spheres, which are undertaken through ASEAN-led mechanisms.

The 23rd ASEAN Summit will also see the turn-over of ASEAN Chairmanship to Myanmar who will assume leadership for the first time on January 1, 2014.

The Secretary-General of ASEAN, H.E. Le Luong Minh, said that "the 23rd ASEAN Summit marks a very productive year of ASEAN Community building. In my annual report to our ASEAN leaders, we are very pleased to note that we have seen a more concerted effort to assess and prioritize our work across the three pillars. For 2014, we will remain focused on expediting the implementation of the remaining 2015 targets and ensuring greater convergence of the three community pillars -- where peace, stability and development are, at the same time, each other's conditions and driving force. By 2015 and beyond, it is our aim to ensure not only the continuity and sustainability of the existing momentum, but also to set the foundation for such concerted progress in a more challenging environment, with enhanced external interest and engagement in the region, and in much larger East Asian and Asia Pacific contexts."

The Association of Southeast Asian Nations (ASEAN) was established in 1967. ASEAN comprises Brunei Darussalam, Cambodia, Indonesia, Lao PDR, Malaysia, Myanmar, the Philippines, Singapore, Thailand and Vietnam. The ASEAN Summit comprises the heads of state or government of the member states and is the supreme policy-making body of ASEAN.

1.2.3 ASEAN and the world stages

Since ASEAN was founded, it has established relations and maintained dialogs with other countries including Australia, New Zealand, Japan, Canada, The United States, China, South Korea, India, and Russia and also the regional organizations namely the European Union  and  the United Nations.
1) ASEAN-Australia Dialogue

The first ASEAN-Australia Dialogue was in 1974. The ASEAN-Australia Dialogue Relations reached a significant milestone in 2007 with the adoption of the Joint Declaration on ASEAN-Australia Comprehensive Partnership. The Joint Declaration reflected strong commitments of both sides to promoting their partnership in areas of political, economic and socio-cultural cooperation. It also set out direction of ASEAN-Australia Dialogue Relations in the years to come.
2) ASEAN-Canada Dialogue

The first formal meeting between ASEAN and Canada was held in February 1977. This cooperation was formalized in 1981 with the signing of the ASEAN-Canada Economic Cooperation Agreement (ACECA). The ACECA provided for industrial and commercial cooperation in addition to technical cooperation. It also established the ASEAN-Canada Joint Cooperation Committee (JCC) to promote and review the various cooperation activities.
3) ASEAN-China Dialogue

ASEAN-China Dialogue Relations commenced in July 1991 in Kuala Lumpur. China was accorded full Dialogue Partner status at the 29th ASEAN Ministerial Meeting in July 1996 in Jakarta. ASEAN and China had agreed to cooperate on eleven priority areas of cooperation, namely agriculture, information and communication technology, human resource development, Mekong Basin Development, investment, energy, transport, culture, public health, tourism and environment.
4) ASEAN-European Union Dialogue

In 1977, the ASEAN-European Union (EU) dialogue relations were formalized when the 10th ASEAN Foreign Ministers Meeting (AMM) agreed on ASEAN's formal cooperation and relationship with the European Economic Community (EEC). This included the Council of Ministers of the EEC, the Permanent Representative of the EEC countries and the EEC Commission. ASEAN-EU dialogue relations are guided by the Nuremberg Declaration on an EU-ASEAN Enhanced Partnership. The Declaration sets out long-term vision and commitment of both sides to work together for common goals and objectives in the future.
5) ASEAN-India Dialogue

ASEAN-India dialogue relations have grown from a dialogue partnership in 1992 to a full dialogue partnership in December 1995. The relationship was further elevated with the convening of the ASEAN-India Summit in 2002 in Phnom Penh, Cambodia.
6) ASEAN-Japan Dialogue

ASEAN and Japan first established informal dialogue relations in 1973.The signing of the "Tokyo Declaration for the Dynamic and Enduring ASEAN-Japan Partnership in the New Millennium" together with the "ASEAN-Japan Plan of Action" (ASEAN-Japan POA) at the ASEAN-Japan Commemorative Summit, held in December 2003 in Tokyo. The Declaration and the ASEAN-Japan POA served as the roadmap in moving ASEAN-Japan relations forward until 2010.
7) ASEAN-Republic Of Korea (ROK) Dialogue

ASEAN and the Republic of Korea (ROK) initiated dialogue relations in November 1989. The ROK was accorded a full Dialogue Partner status by ASEAN at the 24th ASEAN Ministerial Meeting (AMM) in July 1991 in Kuala Lumpur.  The ASEAN-ROK partnership was elevated to a summit level in 1997 in Kuala Lumpur. The ROK appointed its first resident Ambassador to ASEAN and established its Mission to ASEAN in Jakarta in September 2012.
8) ASEAN-New Zealand Dialogue

New Zealand became ASEAN's Dialogue Partner in 1975. New Zealand,  along with Australia and Japan, were among the first Dialogue Partners to hold Summits with ASEAN in 1977.ASEAN-New Zealand partnership reached a significant milestone with the adoption of the ASEAN-New Zealand Joint Declaration on Comprehensive Partnership for 2010-2015 in Ha Noi. The Joint Declaration aims to broaden and deepen the ASEAN-New Zealand partnership in political and security, economic, and socio-cultural cooperation that is pro-active and responsive to future developments.
9) ASEAN-Russia Dialogue

ASEAN-Russia Dialogue Partnership was establish in July 1991 in  the 24th ASEAN Ministerial Meeting (AMM) in Kuala Lumpur.  Russia was subsequently elevated to a full Dialogue Partner of ASEAN at the 29th AMM in July 1996 in Jakarta.
10) ASEAN-U.S. Dialogue

The ASEAN-U.S. dialogue relations have been progressing well since its establishment in 1977. In addition to the exchange of views on political and security matters in the early stages of the dialogue relations, both sides gave priority to cooperation in commodities, market and capital access, transfer of technology, development of energy resources, and shipping and food security. Over the years, the dialogue relations have rapidly grown and expanded to cover a wide range of areas, including political and security, economic and trade, social and cultural, and development cooperation.
11) ASEAN-Pakistan Dialogue

Pakistan was accorded the sectoral dialogue status of ASEAN at the 26th ASEAN Ministerial Meeting on 23 July 1993. The inaugural meeting agreed that ASEAN-Pakistan Sectoral Dialogue would initially cover cooperation in trade, industry, investment, environment, science and technology, drugs and narcotics, tourism and human resources development.
12) ASEAN +3 Dialogue

Since the process began in 1997, ASEAN Plus Three (APT) cooperation has broadened and deepened. It includes cooperation in the areas of political and security; transnational crime; economic; finance; tourism; agriculture and forestry; energy; minerals; small and medium-sized enterprises; environment; rural development and poverty eradication; social welfare; youth; women; civil service; labor; culture and arts; information and media; education; science, technology, and innovation; and public health. As a follow-up to the recommendations of the Mid-Term Review, the APT Cooperation Work Plan was revised with the new timeframe of 2013 – 2017. The revised Work Plan was adopted by the 16th APT Summit,  held on 10 October 2014 in Bandar Seri Begawan.
---
Language Focus 1.2
Language Focus 3Language Focus 4
---
Activities
Activity 3Activity 4Activity 5Activity 6Activity 7